Website relaunch for the HIRMER Group
Code Couture
Anyone who pays a visit to the world's largest online men's outfitter doesn't expect an "off-the-peg" appearance here either. That's why the creatives at +Pluswerk gave the men's fashion specialist's website a tailor-made outfit. With large and opulent imagery that transports the visitor into an exclusive men's fashion world and convinces them of the uniqueness of the famous fashion house. A complex design concept and intelligent technology features spurred our UX experts on to top performance.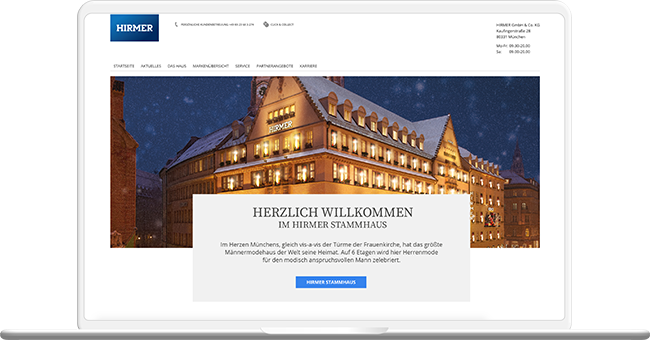 Interactive floor plan with video presentation and 360° view
"Intelligent" brand overview
Form-based raffle module
Online event registration
Coming soon: Integration into the HIRMER online shop

As part of the HIRMER Group , the HIRMER Flagshipstore in the heart of Munich as the world's largest menswear-only store. On around 9,000 square meters of shopping space, the fashion-conscious man can choose from over a million products here. With their competent advice, 350 employees ensure that HIRMER is one of the top fashion addresses - and not just in Germany.
Even though Munich is always worth a trip: Those who don't have the opportunity to visit the flagship store are guaranteed to find the perfect favorite piece in the HIRMER online store - or in the more than 20 Germany-wide stores of Eckerle and HIRMER GROSSE GRÖSSEN, which are also part of the HIRMER Group.
The +Pluswerk team has been successfully working on digital solutions for the fashion specialist since 2008.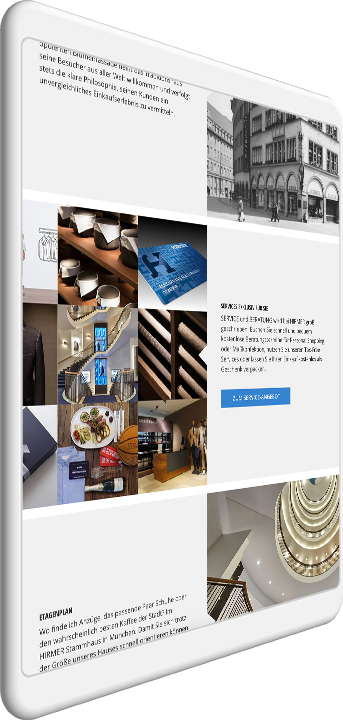 The redesign of the website placed the highest demands on front-end and back-end developers of the website implemented in TYPO3 7.6. Despite diverse layout variants, the content can be intuitively maintained by editors according to the building block principle - without agency support. And to enable integration into the HIRMER online store, the website follows strict structural guidelines.
The integrated brand overview is maintained centrally by the editor, filtered in different variants and presented graphically in different ways. An event platform allows customers to register for events online. The module developed for this purpose is directly linked to the company's CRM system. A solution that was also implemented for the HIRMER subsidiaries Eckerle and HIRMER GROSSE GRÖSSEN.
Solution and technical implementation
Optimized editorial backend based on "modular principle
Separate delivery of content for planned store integration
Implementation of complex layout variants as Responsive Design
Event registration with CRM connection