Metaportal for HMT Rostock
Set the scene
"Study successfully in one of the most beautiful universities in Germany" - behind this motto, the web presence could not hide either. As one of seven universities, the Rostock University of Music and Theatre uses the metaportal of the state of Mecklenburg-Vorpommern implemented by +Plusewerk. Through the common TYPO3 instance, all portal users share the associated running costs and benefit from regular updates. Since many of the required basic functions are already available through the central portal, the ambitious project could be realized in a record time of barely 4 months.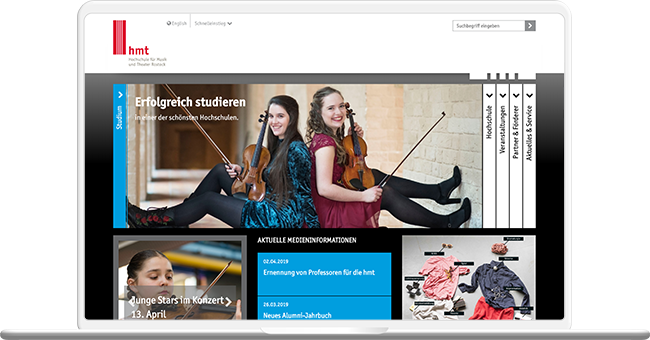 Online event calendar
Integrated live streams
Event news
Sub-portals
Target group oriented navigation

Founded in 1994, the Rostock University of Music and Drama (HMT) has been based in the former Katharinenkloster monastery in Rostock since 2001. Under a different name, it can look back on a much longer tradition. It is considered an internationally sought-after educational institution in the fields of music, drama, music teaching, music and theater pedagogy, and musicology. The approximately 500 students come from 42 nations.
In addition to education and teaching, the college is a fixture in the cultural calendar, with more than 300 performances a year. Regular performances provide an excellent stage for the work of faculty and students.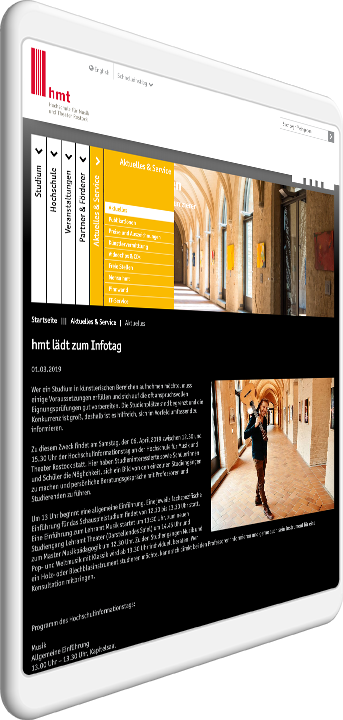 The special feature of the website of the Rostock University of Music and Theatre is the menu navigation and the catchy visual color coding. The calendar of events is just as much the focus of the cultural program as the clear presentation of the teaching program.
We also carried out the complete migration of all content from the old system centrally. For HMT, this meant that all services came from a single source, from the initial conceptual work through implementation to the migration of all content.
The technical basis of the system set up with TYPO3, including all the extensions developed, is available to all participants in the multiportal in the same way. The use of standards was given high priority, and extensions were avoided as far as possible. All extensions such as Shibboleth and LDAP connection, news, events, personal database or teaching directories can be quickly implemented into any university website, of course with an adapted layout in each case.
The system is maintained via a central deployment, updates and upgrades are carried out at the push of a button. Extensions to individual websites can be transferred to other websites very quickly.
Solution and technical implementation
LDAP connection
Migration of all sites
Multi-site concept
Integration of live streams (UVC)