Website relaunch for the Geisenheim University of Applied Sciences
Spirit-rich
Education and research in the field of viticulture and horticulture is the brand essence of Geisenheim University. With progressive "thinking around corners", the institute proves to be a new type of university. No wonder, then, that the Geisenheimer was open to the agile process model according to Scrum. A decision that paid off with the efficient realization in only four months. "We got involved with what was for us a new way of working, and our courage was rewarded. We never thought we could achieve such a good result in such a short time with all the stakeholders of a university," confirms Robert Lönarz, Head of Communications and University Relations.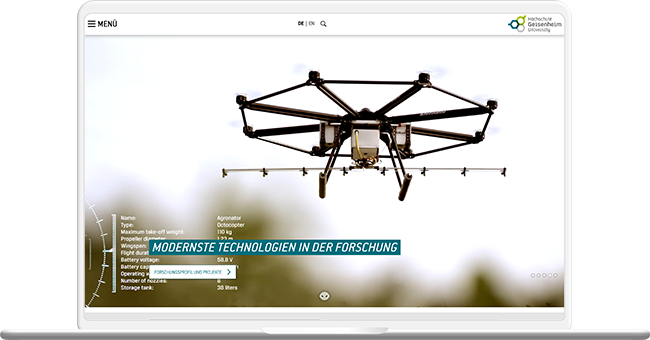 Highlights
Relaunch in less than 4 months - thanks to Scrum
consistent mobile-first approach
connection to the research database of the state of Hesse
faceted search
integrated event and appointment portal
press portal
DSGVO & BITV compliant
About Geisenheim University
The best of both worlds: Geisenheim University combines the strengths of universities and universities of applied sciences, the Fachhochschulen, in education and research. It offers students eight professionally qualifying, practice-oriented Bachelor's programs and nine research-based Master's programs. Young scientists earn their doctorates in cooperation with renowned universities in Germany and abroad.
Research is equally application and basic research oriented. Its focus is on specialty crops in viticulture and horticulture and their diverse production and processing areas (especially beverages). It links these with logistics for fresh products and food safety, business management and marketing. Further content focuses on the planning and design areas of landscape architecture, landscape construction and nature conservation.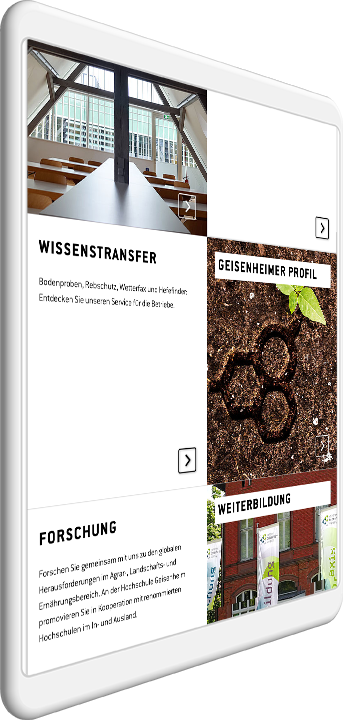 A well thought-out mobile-first approach, the best user experience and barrier-free access were the focus of the concept for the relaunch of the university website.
A uniform menu navigation - on mobile and desktop devices - makes the structure accessible to the user at first glance. Filters and landing pages facilitate orientation and lead directly to information about the degree programs offered. This creates topic worlds that quickly lead to the content sought thanks to clear navigation and "quick finder" functions. Following a comprehensive overhaul, the relaunch presents content that is significantly more focused on the interests of the university's core target groups.