Relaunch in record time for HTWG University of Applied Sciences Konstanz
Sprint-Star
The goal was achieved in just eight sprints: In record time, +Pluswerk took care of the technical implementation of the design concept developed by the Berlin agency think moto. And adds a few technical highlights to the successful look. The fast-as-an-arrow Solr Enterprise search provides "Google-standard" search convenience. Users of the website are managed centrally via LDAP connection. This allows students, editors and staff to log in comfortably with their university account.
The combination of clean, modern design and state-of-the-art technology was recognized by the jury of the TYPO3 Awards as "Best education TYPO3 website".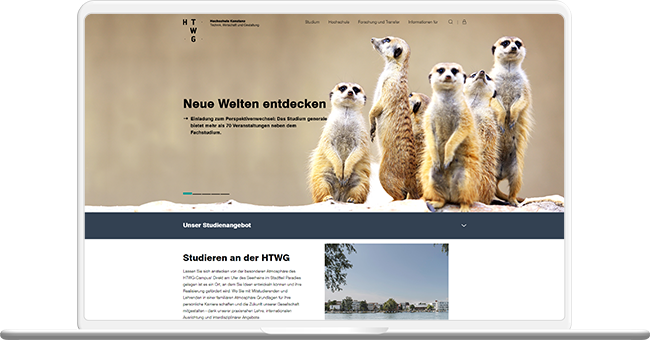 Winner TYPO3 Award 2018
Agile implementation according to Scrum in only 8 sprints
Integrated event calendar with ics download
Protected user area

Personal, modern and application-oriented. With this USP and a wide range of subjects from the fields of technology, business and design, the university addresses its students. Closely integrated into the scientific and economic region of Lake Constance, HTWG Konstanz maintains excellent contacts with the business community.
The university enjoys a special reputation for its concept of reconciling family and studies.
Precise implementation thanks to Atomic Design: The technical implementation was based on the digital style guide (Patternlab) created by the design agency.
The look is characterized by clearly structured surfaces and large, flat elements. A concept that also ensures an optimal user experience on the move.
The integrated online magazine always gives an up-to-date impression of the many facets of the HTWG. Articles in the magazine are presented in a blog look and can be assigned thematically to categories.
Solution and technical implementation
High-performance SOLR search
Authentication via LDAP
Implemented in TYPO3 8.7
Multilingualism