Metaportal relaunch for Neubrandenburg University of Applied Sciences
Beautiful. Fast.
Barely 4 months from order to implementation - sounds record-breaking. Despite a visually unique appearance and complex site structure, +Pluswerk keeps the tight schedule and presents the small but fine Neubrandenburg University of Applied Sciences in the new design. This was made possible by the metaportal for universities designed for the state of Mecklenburg-Vorpommern. It combines the portals of six universities under one roof and already provides a large number of the required functions for all platforms. The project thus builds on an existing basic structure - saving time and costs.
Despite standardization, the concept ensures maximum individuality. The continuous development and updating of the metaportal guarantees future security. This forms the basis for all university websites published under this instance.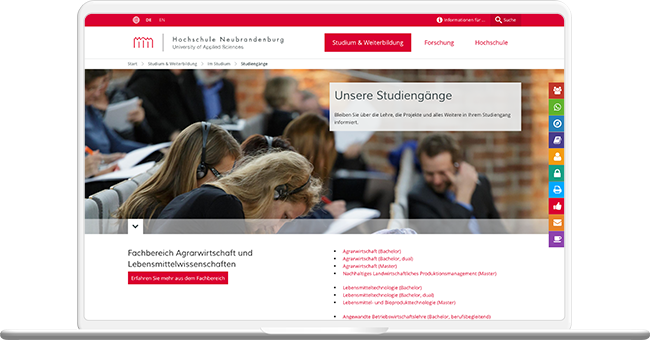 Integrated research database
Directory of persons via LDAP
Calendar of events
User-friendly Quick-Start bar
Target group navigation

About Neubrandenburg University
With its unique profile, the modern campus university offers bachelor's and master's degree programs in social and educational sciences, health and nursing, as well as in the fields of agricultural economics, food technology, geoinformatics, geodesy and measurement technology, and landscape architecture and nature conservation and land use planning.
Thanks to its manageable size, the approximately 2100 students feel very well looked after. They know each other and professors are always available. Since its founding in 1991, Neubrandenburg University of Applied Sciences has established and expanded distinctive fields of expertise in the areas of applied research, development and knowledge transfer.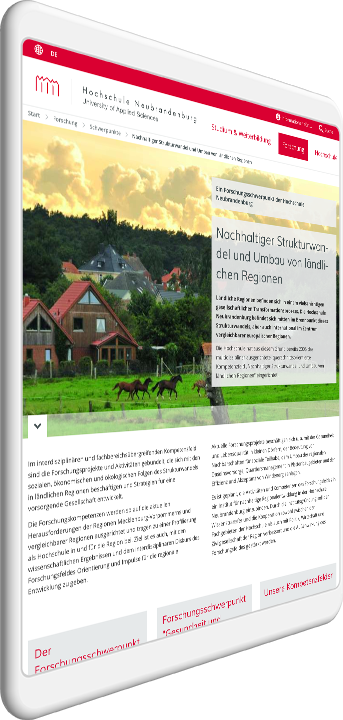 Concept & Design
Content concept and design are the biggest challenge for universities. A complex site structure and large organizational units make it difficult to find the right entry point. A constantly optimized scrum guide and the multi-instance concept already successfully used for three universities also convinced the Neubrandenburg-based company.
The design concept could thus be integrated quickly, and navigation was streamlined thanks to flexible landing pages. Proof of how flexible and successful the agile Scrum method is in project implementation. In close cooperation between the development team and the product owner of the university, a time-saving, functional and cost-efficient solution was thus developed.
Solution and technical implementation
Shibboleth and LDAP connection
Teaching directories via LSF
Connection of a project database
Migration of over 1000 pages as master for internal editors
Innovative multi-site concept as technical basis
Agile project implementation using the Scrum method