Website Relaunch for Städtischen Werke Magdeburg (SWM)
M-Pathic
The "M" is not only capitalized in the logo at Städtische Werke Magdeburg. The service provider for energy, mobility and water supply is known in the state capital for its fresh, unbureaucratic approach and close ties to the region. This is also reflected in the relaunch of the new website. +Pluswerk adapted the modern CI with a large number of images and the color separation of product and corporate communication for the digital brand presence.
Technically up to date thanks to TYPO3 10, the new website makes it easier for editors to maintain content on a daily basis. This is ensured, among other things, by the integrated central contact management and easy-to-use modules for updating FAQs and downloads.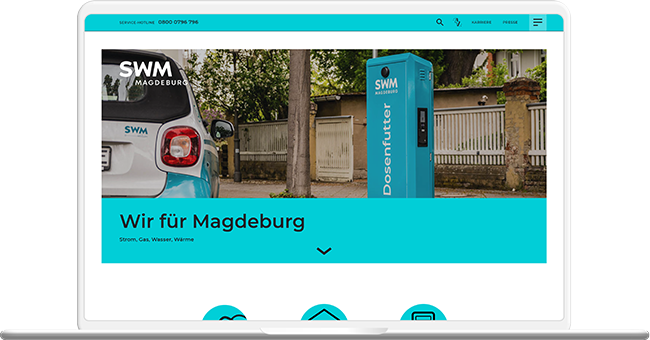 UX-optimized frontend for rate calculator and customer portal
Central contact management
High-performance enterprise search
Magazine section with attractive images and video integration

From Magdeburg - for Magdeburg. As a major energy service provider in the region, Städtische Werke Magdeburg has its place in the heart of the state capital. And not only thanks to the move to the new, architecturally striking company headquarters in the center of Magdeburg.
The company moves the city - as an important employer, promoter of e-mobility and committed partner in sports and culture. The company tackled the challenges of digital transformation at an early stage - and thanks to smooth and professional collaboration with the +Pluswerk sites in Munich and Magdeburg, also implemented a website relaunch at (agile) sprint speed.
The UX specialists paid particular attention to the front-end optimization of the online services: The interface of the rate calculator and customer portal - both SAP-based - were improved with user-friendliness in mind. A fast-as-an-arrow enterprise search and tidy navigation lead users to the content they are looking for as quickly as possible.
The company and magazine section invites users to read with striking images and exciting stories. Here, editorially prepared articles provide information about SW Magdeburg's commitment to the region and the environment. Large tiles and a clear icon language ensure the best orientation and usability, even on smartphones.
A "tool box" allows visitors to access frequently used offers at any time without having to leave the current page.
Solution and technical implementation
Technical implementation in TYPO3 10
Solr Enterprise Search
Frontend optimization SAP customer portal
Online "tool box" in permanent access
Integrated tariff calculator